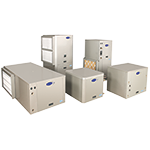 Building a new home? Have you thought about how you're going to heat and cool It.? Don't let anyone talk you out of geothermal for any reason before you personally have a chance to review an energy analysis yourself. Geothermal is the most economical heating and calling available. If you are building a new home with a traditional system you will need ductwork, a furnace, and an outdoor air conditioning unit. If you would take the amount for those three items and consider a geothermal system you would still need ductwork, you would have an energy field installed in your back yard powered by mother nature that belongs to you forever and you would only have one unit in your basement that supplies both heating and air-conditioning, and can also heat most of the hot water your family will need.
Consider a 30% tax credit that can be used over more than one tax season if needed, and there is no limit to the 30%. Other energy tax credits have given a percentage up to a certain dollar limit, but the geothermal tax credit has no dollar limit. It is 30% of the total installed cost of the system, and the Federal government is offering this tax credit through 2016.
A geothermal system heats your home, cools your home, it can supply most of the hot water you use, and it dehumidifiers your home better on humid days. Geothermal manufacturers require only one service check a year unlike traditional systems where they require one on the air conditioner in the spring and a separate one on the furnace in the fall. A geothermal system only has one unit and it's indoors unlike traditional systems having the air conditioning unit outdoors exposed to the elements.
Of course the initial cost is somewhat higher than a traditional system but here's the big picture. The cost of the system increases your monthly house payment slightly but it greatly decreases your monthly utility bill, making your combined monthly house and utility payment lower with geothermal. A geothermal system pays for itself with the money it saves you on utility bills.
Geothermal units last longer, they use less energy, they're known to be the most comfortable system available, and more people are installing geothermal in not only their new homes but also in their existing homes, with more than I million installed worldwide.
Do yourself a huge favor and get a free no obligation geothermal cost analysis. Our comfort consultant Dave Affolter will be glad to show you the benefits of a geothermal system over a traditional system. There is no obligation or cost for this analysis, even if someone else puts your system in. It's better to look ahead then look behind and wished you had compared.
Please, do not let a building contractor dictate who or what kind of comfort system you'll be using in your new home, this is a specialty item? Remember, they are your contractor the same as Simpson heating and cooling is our customer's contractor. All contractors work for the person having the work done, or they should be. Remember you're paying the bill, get your money's worth.
All-In-One Geothermal Product Offering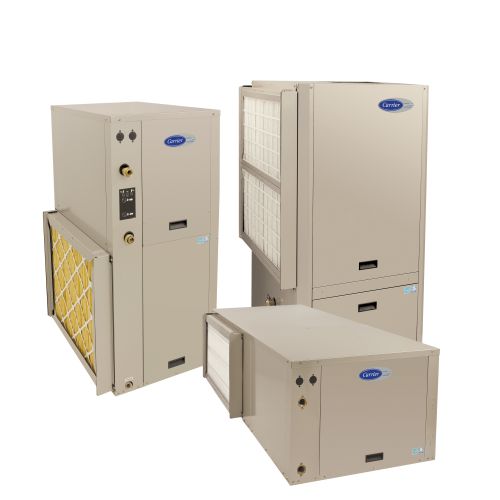 Infinity® Series Geothermal Heat Pump
View Brochure
Model Family: GC
Closed Loop Cooling Efficiency: Up to 30.0 EER
Closed Loop Heating Efficiency: Up to 4.2 COP
Energy Star Rated: ENERGY STAR®
Refrigerant Type: Puron®
Sound Level: Quiet operation
Blower Motor: Variable-speed blower
Compressor: Two-stage compressor
Factory Warranty Parts: 10 year parts limited warranty 5 year labor limited warranty
Factory Warranty Compressor: 10 year parts limited warranty 5 year labor limited warranty
Manufacturer's Stated Benefits:
Open loop cooling: Up to 37.0 EER
Open loop heating Up to 5.2 COP
Summer dehumidification is compressor and blower motor enhanced
Excellent cold weather performance
Sound enhancements: Fully insulated cabinet, compressor blanket and double-isolation compressor mounting system
Microprocessor control board
Recommended control: Infinity control
Optimal humidity and temperature control when managed by the Inifinty Touch control
Large operating temperature range
Corrosion-resistant air coil for long life
Stainless steel drain pan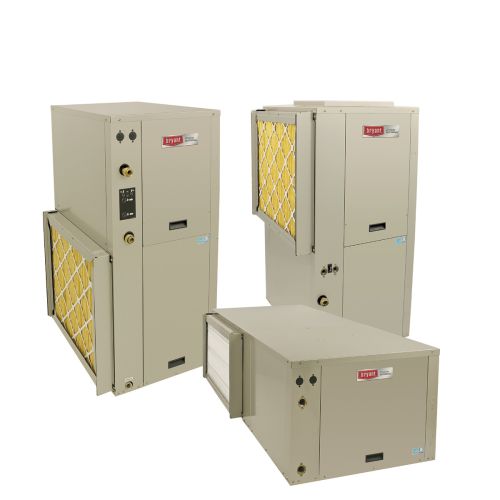 Performance™ Series Geothermal Heat Pump
View Brochure
Model Family: GP
Closed Loop Cooling Efficiency: Up to 24.5 EER
Closed Loop Heating Efficiency: Up to 4.0 COP
Energy Star Rated: ENERGY STAR ®
Refrigerant Type: Puron®
Sound Level: Ultra quiet fan sound levels
Blower Motor: Variable-speed blower motor
Compressor: Two-stage scroll compressor
Factory Warranty Parts: 10-year parts and labor limited warranty upon registration
Factory Warranty Compressor: 10-year parts and labor limited warranty upon registration
Manufacturer's Stated Benefits:
Summer dehumidification is compressor and blower motor enhanced
Excellent cold weather performance
Sound enhancements: Fully insulated cabinet, compressor blanket and double-isolation compressor mounting system
Comfort Alert™ compressor diagnostics
Microprocessor control board
Recommended control: Performance™ Edge® relative humidity thermostat
Heavy-duty, galvanized steel cabinet
Baked on urethane base coat and polyester top coat paint in taupe metallic
Large operating temperature range
Corrosion-resistant air coil for long life
Stainless steel drain pan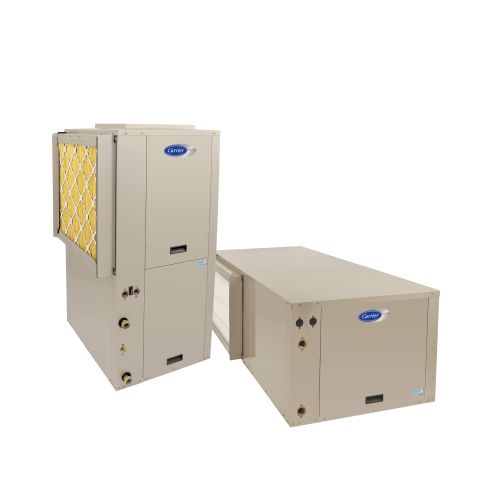 Comfort™ Series Geothermal Heat Pump
View Brochure
Model Family: GB
Closed Loop Cooling Efficiency: Up to 21.7 EER
Closed Loop Heating Efficiency: Up to 4.3 COP
Energy Star Rated: ENERGY STAR ®
Refrigerant Type: Puron®
Sound Level: Quiet operation
Blower Motor: Multi-speed blower
Compressor: Single-stage scroll compressor
Factory Warranty Parts: 10-year all parts and 5-year labor limited warranty upon registration
Factory Warranty Compressor: 10-year all parts and 5-year labor limited warranty upon registration
Manufacturer's Stated Benefits:
Excellent dehumidification and temperature control
Insulated cabinet for quiet operation
Large operating temperature range
Corrosion-resistant air coil for long life
Stainless steel drain pan
Microprocessor control for precision operation