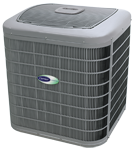 ARE HEAT PUMPS GOOD OR BAD?
Heat pumps have come a long way, and are now one of the most widely used systems around the world. Installing a heat pump is easy but it takes an experienced technician to properly set one up after installation. That's why some companies try and talk you out of buying one; they can install it and get it running, but have difficulty getting it to perform at peak capacity. Some companies even say they don't work in Ohio because of its cold climate. Canada with its frigid winter temperatures is one of the largest users of heat pumps.
It's a proven fact that air source and water source heat pumps are the only heating devices that produces more energy than they use. This makes it the most energy efficient system produced today, and they can use a gas furnace, a fuel oil furnace or electric furnace for auxiliary heat? They also help pay for themselves with the energy they save by producing more than they use.
An added bonus of a heat pump system is that it comes with a reversing valve that turns the same unit into an air conditioning unit. Wow, one unit that looks like an air conditioning unit that cools your house in the summer and helps heat it in the winter while reducing your annual energy cost. That's why we jokingly say we'll give your air conditioning with every heat pump at no additional charge.
Call the area's heat pump specialists for a free, no obligation estimate. Simpson Heating and Cooling will show you what a Carrier heat pump can do for you.
You can be assured there's no obligation and estimates on equipment are free. Everyone at Simpson's wants you to feel comfortable while comparing different systems. We know you have choices and appreciate the opportunity to serve you with a heating and cooling system that is custom-designed around your personal comfort needs.
For all your residential and commercial needs call Simpson Heating and Cooling, your local Carrier heating and cooling products dealer," Turn to the Experts".
WHEN YOU'RE LOOKING FOR HOME COMFORT, REMEMBER
"BUY THE BEST, FROM THE BEST"
SIMPSON HEATING AND COOLING
State of Ohio licensed, insured, bonded and NATE certified.
Heat Pump Product Offering