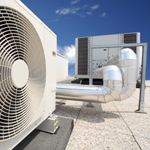 The Commercial Department at Simpson Heating & Air is here to serve all your needs, from light commercial to industrial HVAC applications. We are a company that is committed to excellence in every aspect, from installation to service to customer care. Give us a call and let us take care of all your commercial needs.
Heating and Cooling
We are experienced in the installation and servicing of all types of commercial HVAC equipment, including the maintenance on commercial heating, ventilating, air conditioning equipment also rooftop units and steam and hot water boilers located in manufacturing plants, medical facilities, shopping malls, schools, government buildings numerous Wal-Marts locally and in surrounding counties, Speedways from north of us to south of us and to the east into West Virginia, among numerous other commercial facilities.
This is a picture of an actual rooftop where Simpson Heating and Cooling installed a packaged heating and cooling system plus the fresh air ventilation system beside the Pizza Hut in Canton, Ohio.
---
This large system is a 750,000 BTU direct vent make-up heater installed at Maggoo's Restaurant located at the Airport in New Philadelphia, Ohio.
---
Simpson Heating and Cooling is so proud to be the heating and cooling contractor for the Meridian Greene Project located in Wintersville, Ohio. This three story (54) unit apartment building also has sixteen single story ('four' 4-plexes) facing it from across the parking lot. This project was completed early 2006. Simpson Heating and Cooling was the first mechanical contractor to complete their work and passed all state and local inspections.
---
This picture shows a very small amount of a very complex system Simpson Heating and Cooling installed at the Alliance Imaging Center located on Whipple Avenue in Canton, Ohio. The duct work required the use of materials made of aluminum, stainless steel, copper, and/or brass. The magnet used in the MRI Lab is so strong it could even pull a standard type metal screw from the connections to the magnet. We are very proud of installing the complete heating, cooling, and emergency air ventilation systems in this structure. We passed all inspections upon each visit by the governing agency, State and Local.
---
This is a picture of Simpson Heating and Cooling installing a large packaged rooftop system at the main office of Summit Homes in Canton, Ohio. Summit Homes is a very large building contractor of residential homes, building hundreds per year in the surrounding states with numerous residential installation crews of their own. Summit Homes is now known as K. Hovnanian.
---
Here is a picture of the Harvard Office Building located on the corner of Whipple Avenue and 22nd Street in Canton, Ohio. During the construction Simpson Heating and Cooling installed separate comfort systems to the (6) business locations, and also (2) heated garage systems located in the rear of this structure under the offices.
---
This is a picture of the very popular HOG Heaven Restaurant located in New Philadelphia Ohio. Simpson Heating and Cooling replaced all of the heating and cooling equipment including a very LARGE 20 TON Packaged HEAT PUMP that compares in size to a pickup truck.