Gas Line Installation & Repair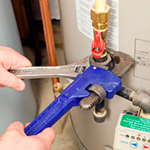 Simpson Heating & Air installs and repairs commercial and residential gas lines. Simpson Heating & Air meets the requirements of the Department Of Transportation "DOT" that governs the transportation (flow) of natural gas by Dominium East Ohio and Columbia gas, as well as other companies. All of us at Simpson Heating & Air enjoy knowing you are safe with us.
This is some of the pipe threading equipment Simpson Heating and Cooling uses to thread metal gas piping used in commercial and residential applications, up to 6 inches in diameter.
---
This area was prepared for the installation of a new gas line by using one of Simpson Heating and Cooling's trenching machines leaving a nicely shaped cut, making it easy for the gas line installation and yard remediation.
---
At this location the existing steel underground gas line had deteriorated and was leaking. The curb stop was in the concrete sidewalk. We saw cut the concrete at the curb box, bored under the sidewalk to the foundation of the house, and then installed a meter bar and and all needed connections. After all other work was complete we restored the sidewalk with concrete.
---
The original gas line was leaking, and ran from the curb and under the sidewalk to the house. Simpson Heating and Cooling was able to install the new line under the existing concrete sidewalk without disturbing it, eliminating additional cost to the customer.
---
You are looking at a detached garage where Simpson Heating and Cooling installed a new gas line from the house to the garage where they installed a new unit heater.
---
This is a commercial 2 inch gas line with test gauge attached to make sure the line is leak free. We also installed a new 2 inch riser to the meter bar. This work site was located at the Boulevard Lanes Bowling Alley in Dover, Ohio.
---
We have the heavy duty equipment to handle difficult and large jobs!